We all want to wake up completely refreshed and pain-free, feeling amazing and ready for a new day. For many of us, however, a good night's sleep seems increasingly out of reach. This is when your sleeping position and the quality of your mattress come into play! Maybe your double sided mattress doesn't cut it for you. Or your latex mattress for that matter. Maybe you need a whole new base. Consider getting an adjustable base and a compatible adjustable bases mattress for your bed.
Your new adjustable base compatible mattress will enhance your sleep experience and an adjustable base for your king or platform bed will help you overcome certain health issues. Together, they are also a winning combination for watching a movie, using your laptop or enjoying a good book in bed.
Here are a few benefits that come with purchasing adjustable bases for beds and an adjustable bases mattress.
Adjustable bases mattress improves blood circulation
Adjustable bases for beds allow you to put your mattress in various positions, enabling you to reap numerous health benefits. If you want to improve your circulation, elevate your legs and other problem areas above the heart level.
Your heart will be able to pump blood through the circulatory system more effectively and blood will reach your body's vital organs more easily. Raising your legs and feet will also help eliminate swelling.
Adjustable bases for beds provide pain relief
Sleeping in a horizontal position can only make your back or joint problems worse. Adjustable beds can provide the ideal lying or sleeping position for an individual. The customizable features make it easy to put both your upper and lower body into a comfortable position.
An adjustable base  and an adjustable base compatible mattress can eliminate the harsh effects of gravity on the spine and maximize comfort for people with aches and pains by putting the body into the zero gravity position.
Sleeping in a slightly inclined position with your legs slightly bent and with your upper body and head slightly raised can relieve pressure on the spine. You can even ask your doctor to recommend the right sleep position for you and then create it with your adjustable bed.
Reduced snoring and sleep apnea
People with sleep disorders or sleep apnea have trouble breathing well during the night because of low levels of oxygen in the blood. Snoring is a common condition caused by restricted oxygen pathways that disrupts deep and restorative sleep, which has a negative impact on quality of life and physical and intellectual performance.
Sleeping in an elevated position on an adjustable base friendly mattress maximizes the flow of oxygen, allowing air to reach vital organs. This reduces the intensity of snoring and other sleep disorders. You will feel energized in the mornings and be able to lead a happier life!
The retreat of your dreams: insomnia, begone!
Different functionalities of an adjustable base and a number of ergonomic rest positions will turn your bedroom into a sleep retreat and make rest and relaxation an affordable indulgence – all year round, for many years to come!
Paired with a proper mattress, adjustable beds are very relaxing and can relieve you of stress, strain, and tension. One more reason to visit a renowned mattress firm in San Diego, CA and find the right adjustable base and mattress for your king or platform bed! Customize your bedroom experience and enjoy optimal comfort, support and convenience!
Adjustable bases mattress equals better blood circulation
Proper blood circulation is of paramount importance for optimal sleep quality. Adjustable bases mattress allow for the fine-tuning of sleeping positions which in turn helps promote healthier blood circulation. Healthy blood circulation even relieves swollen legs.
Better digestion and reduced heartburn & acid reflux
The body needs to work hard throughout the night so as to digest and process food which is an exhausting process, especially due to the body's flat position during sleep. However, an adjustable bed frame allows you to raise the head enough to achieve proper digestion.
Adjustable bases for beds as a major lifestyle improvement
All in all, adjustable bases for beds could represent a major lifestyle improvement. They allow us to switch between different positions when in bed, whether we are sleeping, resting, watching TV, reading a book or having breakfast.
Shopping for adjustable bases & adjustable bases mattress in San Diego CA?
If you want to take the quality of your sleep to a whole new level, Mattress Makers is your one-stop shop! We are a family-based firm in San Diego specializing in mattresses, adjustable bases for beds and custom pillows. Choose one of our adjustable bases for king or platform beds, pick a compatible mattress, and explore a wide range of options they can provide!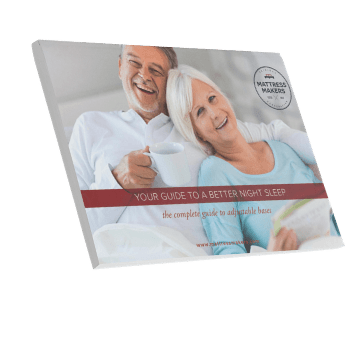 Is Sleeping flat really the best way to sleep?
Find out the answer and everything else you need to know about adjustable bases in our free guide.