Sheets are an extremely important part of the sleeping experience. Sure, you can know all about the dimensions of an adjustable split king, which mattress to use on your adjustable bed, and whether or not your adjustable bed is durable enough for your sleeping needs.
But what about the sheets, an essential, but often neglected aspect of a good night's sleep? You should never buy sheets on a purely aesthetic basis, so let's see how to choose the perfect ones for your split king adjustable bed. 
What kind of sheets do you put on a split king bed?

When it comes to outfitting your split king bed with the sheets of your dreams, it seems an easy matter. And, on the one hand, it is. You definitely don't need a pundit from the Stanford Center for Sleep Medicine helping you out.
But, on the other hand, you need to know the type of sheets to use on your split king. Regular sheets just won't do. They can do, but then you'd be throwing the primary reason for buying a split king, two separate sleeping surfaces, out of the window. 
You only need a single sheet to cover your regular king-size mattress. However, a split king is comprised of two Twin XL mattresses, and that's why you need two Twin XL sheets for your split king. 
These kinds of sheets usually come with elastic corners or straps on the corners, making it easier for the sheets to have a snug fit to the mattress. Sometimes, you'll get a top sheet in the package too, maintaining the possibility to cover the entire split king with a single sheet. 
What types of sheets are available for split kings?
There are many materials used to create split king sheets. Here are the most common types.
Cotton – Cotton sheets are wrinkle-free, and enable a mattress to retain a high degree of breathability. Depending on the thread count, you can get cotton sheets of different quality.
Supima cotton – Supima cotton is a better alternative to regular cotton, and it's among the best types of cotton fibers in the world. These sheets boast increased durability and breathability due to longer threads.
Microfiber – Microfiber sheets are soft, smooth, and extremely durable. However, microfiber is less breathable than cotton, and, although machine-washable, these sheets can shrink if you toss them in the washing machine.
Tencel – The fibers of these sheets are made from eucalyptus, which gives them superior strength when compared to other types of fabric. Also, they tend to be very soft, making them a good choice for anyone experiencing skin issues. The ability to wick skin moisture will only make your good night's sleep even better.
Egyptian cotton – The most luxurious of all the fabric, Egyptian cotton's reputation certainly is well deserved. The fibers are long, meaning no piling. The thread count is very high, which means increased durability and softness. Finally, Egyptian cotton sheets are incredibly breathable, making this the perfect buy for people who sweat through the night.
Can I use regular sheets on an adjustable bed?
You can, but then you'd have to wrestle your sheets every time you place your adjustable bed in a different position. Regular sheets are designed for beds that remain flat, which is not something adjustable beds are for. 
Using regular sheets on an adjustable base would cause the sheets to wrinkle and bulk up in the middle and slip off at the corners, making you lose sleep over it. That is why there are special sheets designed for adjustable beds.
Why go with sheets for adjustable beds? 
Sheets for adjustable beds are created to be more secure and fit more snugly to the mattress. They usually have elastics or suspenders going all around them, making it easy for you to secure the sheets in place on an adjustable base.
Also, sheets for adjustable beds are usually deeper than those for regular beds. The increased depth allows for more motion of the mattress underneath, which means your sheets will stay in place rather than slip off. 
Of course, in order to buy the perfect sheets for your adjustable bed, you need to know the exact dimensions of the base and the mattress, and then try to find sheets made for adjustable beds that fit the dimensions of your bed.
How do you put sheets on a split king adjustable bed?
The process of putting sheets on any bed does seem to be a similar experience, and it is so with regular beds that feature regular mattresses. However, although the process of putting sheets on adjustable beds is not all that different, it is different enough that it warrants a more detailed explanation.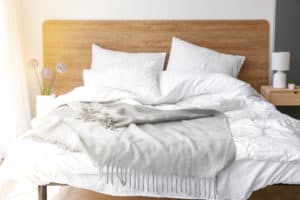 You need two different sheets for both parts of your adjustable split king.
Make sure the dimensions of the sheets are such that they fit tightly around your mattress.
Take a single sheet and place it over one part of your split king adjustable bed.
Now, take the sides of the sheet and firmly put the elastics or suspenders over the sides of your mattress, so the sheet doesn't move.
If you want, you can fit sheet fasteners to your sheets, for improved security during the night's tossings and turnings.
Added tip: lift the head and foot of your adjustable base for greater ease on your back when putting on your sheets. The foot mattress will lift off of the base, making it that much easier to get the sheets under the mattress.
"Where can I find sheets for my split king adjustable bed in San Diego?"
Where else than at Mattress Makers? At our store, you can find not only the finest sheets on the market, but also the best mattresses and bases for your adjustable split king bed. We are a family business, and we give it our all when making every mattress, every base, every pillow, and every sheet. With our products, you'll always feel well-rested for spontaneous visits to Torrey Park State Natural Reserve. Come to our store and see what we have to offer!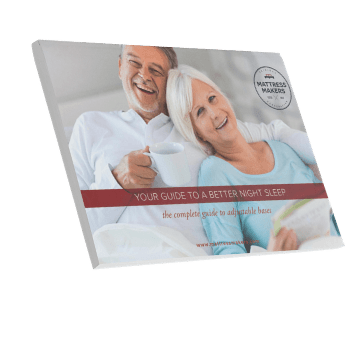 Is Sleeping flat really the best way to sleep?
Find out the answer and everything else you need to know about adjustable bases in our free guide.