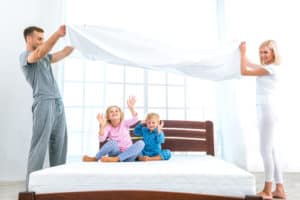 The process of mattress shopping can get complicated. After all, you'll be sleeping on it for years to come, better to be thorough about it, right? So, you ponder what the best latex coil hybrid mattress could be, you read about the differences of coils and springs, you skim endless reviews of pocket coil mattresses, and then, surprisingly, you investigate the signs of needing a new mattress, because maybe your old one is still good? On top of that, once you actually do buy one, someone says you have to rotate it! What? Why? You have no idea how often should you rotate your mattress? This is the perfect place to learn then!
Why should you rotate your mattress?
First off, let us clarify our definition of rotating a mattress. When we say rotate, we mean rotate it 180 degrees, so that the foot of the bed becomes the head of the bed, and vice versa.
As for the 'why', you need to be aware of the fact that all mattresses suffer wear and tear caused by, you guessed it, sleeping on them. Rotating your mattress regularly prolongs its lifespan, preventing unnecessary damage, such as lumps and sagging. Plus, if you rotate your mattress periodically, it will support your spine better, keeping it in neutral alignment for longer.
How often should you rotate your mattress?
As for how often, it is difficult to reach a general consensus and give a one-size fits all type of answer. With so many different materials and techniques used for manufacturing mattresses, a uniform code of mattress conduct is not entirely possible to make.
However, there is a rule of thumb that suggests rotating your mattress once every three months to keep it in best shape possible. Some say it should be done once in a year, but we find this to be too infrequent. However often you choose to do it, make sure you stick to the routine you've planned out.
How exactly should you rotate your mattress?
Ok, now that you've been given a suggestion on how often should you rotate your mattress, it's time to deal with how to rotate it. It might sound simple as just picking it up and jiggling it about the bed frame, but there is an actual method to it.
We suggest to plan all your rotation dates for up to a year in advance. Don't just pick it up when you feel like it, there should be a system to it. Four time a year seems like a good number for mattress rotating, so let's begin there.
Before you actually do pick it up, make sure you prep the space and plan how you're going to do it in advance. Remove any breakables from the vicinity and envision how you're going to do it. Knowing the answer to the question, "how often should you rotate your mattress?" is only the beginning.
Lastly, make sure you've got a vacuum cleaner there beforehand too, and a wet cloth to follow, with some cleaning products as well. This is the perfect opportunity to clean the area of the bed frame rarely accessible otherwise, and get rid of those pesky allergens that might have temporarily moved in.
Once you're done with the rotation process, lie down for a quick check to see if there are any noticeable differences in sleeping comfort and spine support. Surely there will be, but the best way to be certain is to check. If you fall asleep without planning to, you've done a good job!
"How often should you rotate your mattress?" has been answered. Now, what about a mattress to rotate?
Why not make it the best mattress in San Diego? Because that's just what Mattress Makers offer – the finest mattresses money can buy. We're a family business with a long tradition of mattress making, and we're here to make your every sleeping wish come true. Stop by our store and see what we have to offer. We're confident you won't go home empty-handed!